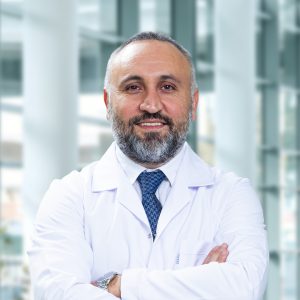 Hasan Erdem (born October 14, 1976, in Turkey / Hatay), also known as Dr. HE, is a Turkish bariatric surgeon and owner of Dr. HE Obesity Clinic. He specializes in general surgery and bariatric surgery. He is performing weight loss surgeries at the contracted hospital. It is claimed that he has performed more than 5 thousand bariatric surgeries in his career. [1]
Education and Medical Career
He had medical education between 1996-2002 at the Istanbul Medical School of Istanbul University. In 2008, Dr. Hasan Erdem completed his specialization in General Surgery at Bezmialem Vakıf Gureba Teaching Hospital in Istanbul. [2]
Dr. Hasan Erdem was assigned to Government Hospital, where he performed his obligatory services to the State between 2009-20011. After completing the obligatory services, he worked as chief assistant in General Surgery at the Training and Research Hospital of Istanbul, where he performed studies on Advanced Laparoscopic and Robotic Surgery. [2]
Dr. Hasan Erdem was granted the title Associate Professor of Obesity and Metabolic Conditions on August 27, 2018. [2]
He has more than five hundred international scientific publications. [3]
Dr. He Obesity Clinic
In 2016, Dr. Hasan Erdem established a private clinic called Dr. HE Obesity Clinic in Istanbul, where he currently works. This clinic is a specialized clinic in Istanbul, Turkey focusing on obesity surgery and provide pre-and post-operation counseling services for bariatric surgery patients. Doctor Hasan Erdem performs surgeries himself. [4]
The clinic serves patients who come from all over the world for bariatric surgeries.
Dr. HE is an ISO, and IFSO certified Obesity Clinic. With state-of-the-art equipment, the focus is on Gastric Sleeve Surgery, Gastric Bypass Surgery, Gastric Balloon, and Gastric Botox Operation. Also, they are serving about revision surgeries (Like Lap Band to Gastric Sleeve Revision, Gastric Sleeve Revision, and Gastric Bypass Revision). [4]
Personal Life
He was married to Dr. Şerife Erdem. They have three children—his wife gynecologist and obstetrician.
Links